SSS is the world's leading supplier of automatic overrunning clutches for high power/high speed applications
Since our inception, more than 60 years ago, SSS has concentrated on the development and production of SSS Clutches. We haven't tried to expand into other fields, preferring to perfect a single product for diverse markets.
The SSS Clutch is a sophisticated freewheel and as such is used in vast range of applications and with today's emphasis on energy efficiency and flexibility the requirement for SSS Clutches is continuing to increase. 
SSS's design capability coupled with a deep interest in application engineering have made the SSS Clutch the pre-eminent device of its type.
More than 35 000 SSS Clutches have been supplied.
The highest power SSS Clutch transmits 320MW at 3000rpm.
The highest torque SSS Clutch transmits 4MNm at 600rpm.
SSS Clutches are adopted in a wide range of power/speed applications where reliability and long life are important.
It is a deliberate policy of SSS to keep the number of employees to a minimum so that Senior Management are able to be directly involved in all aspects of the product at every stage from application engineering and design, through inspection, assembly, testing, to, where required, commissioning.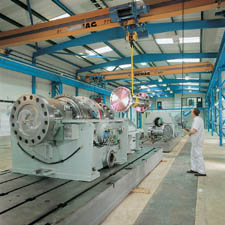 These policies enable SSS to provide a high quality product at a competitive price, supported by quick and effective customer service.
By restricting its size the Company is also able to remain privately owned with the freedom to pursue its ideals of technical excellence and innovation.